Everything packed? - Then off to the sea!
Who has not experienced this before...: You drive to the kite spot. You are really excited about the session. You take the kite equipment out of the car - and then: Damn, you forgot the kite pump! Fortunately, there are usually plenty of those at the spot these days. It's a slightly different story when it comes to baby and children's equipment...  
Latest since you have become a mother, you know anyway: Planning is everything! To help you with the preparation of your next kite trip with baby/kid(s) and to avoid unpleasant surprises at the kite spot or destination of your kite vacation, we drafted a packing list for your kids' necessary equipment which can be downloaded here.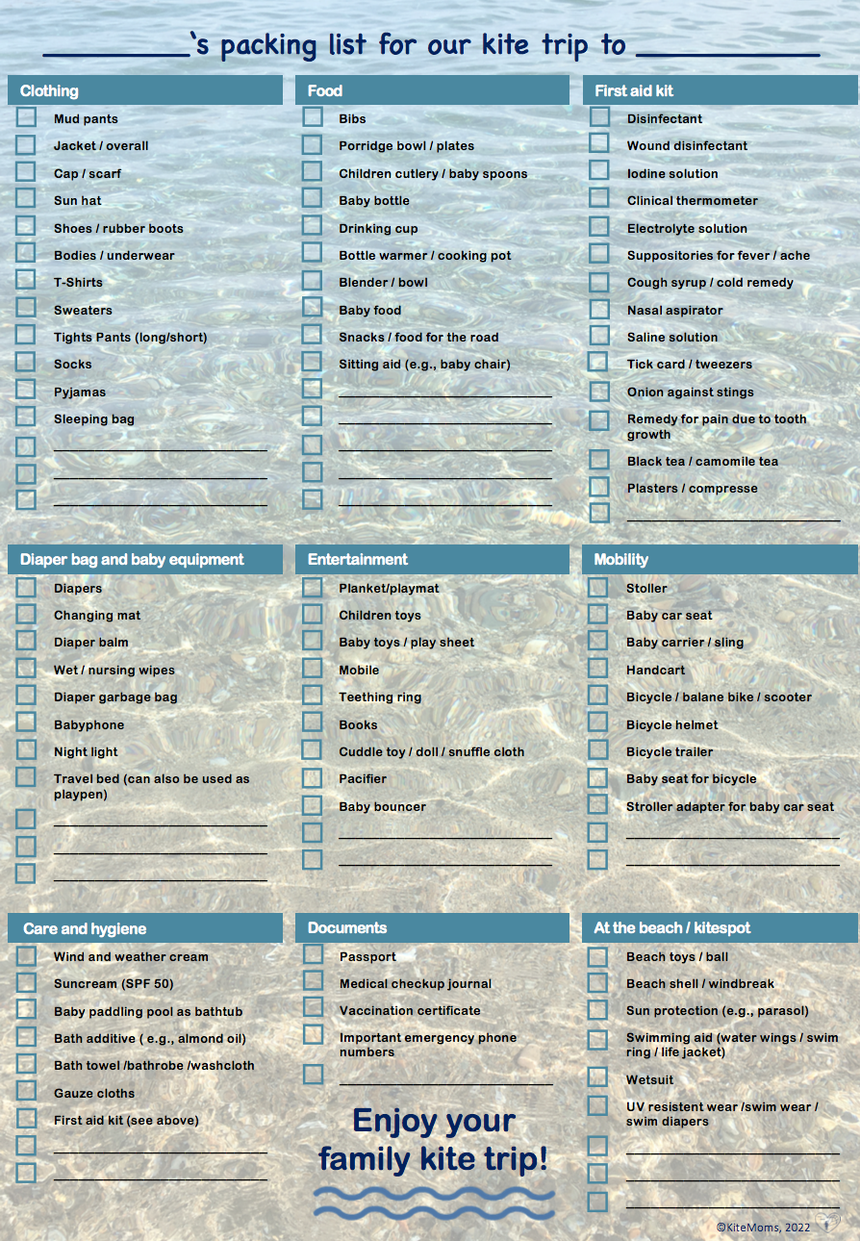 The packing list contains all potentially required items. Just tick off what you have packed. You don't need things on the list anymore? Just cross them out. At the same time, the list does not claim to be complete. If you are missing something on the list, just add it on the placeholder lines. If any essential baby/kids equipment was forgotten, we are also happy about your hint!
Being perfectly prepared
The KiteMom packing list will help you to think of all your kids' stuff for your next kite trip - be it by camper van, in a vacation home or a hotel. 
Basically you should take wind- and weatherproof clothes and/or clothes / sun protection for sunny days at the kite spot. Of course always depending on where your trip takes you. Especially for trips in the north (e.g., Northern Sea and Baltic Sea in Europe/Germany), remember the wind chill which makes it feel a few degrees cooler at the coast. If the trip goes to the south, the situation is of course different. 
Don't forget: In Europe, the children's passport must be carried as soon as you cross a border with your child - even within the EU. Make sure to check the entry requirements of your travel and any transit destinations in advance.
---
Kitemoms packing list
Download the KiteMom packing list for your next kite trip with baby/kid(s) here!
Kitemoms packing list.pdf
Adobe Acrobat Dokument
15.9 MB
Kitemoms packing list / plain colors
Alternatively, download this printer cartridge and environmentally friendly version.
Kitemoms packing list_plain colors.pdf
Adobe Acrobat Dokument
89.2 KB